Bonaire might not be the technical diving capital of the world, but we do have a variety of beautiful dive sites with interesting maritime artifacts and features to check out beyond recreational depths. If you're bored of playing mundane deco games or hanging on a line in cold water, then let us show you the beauty of doing hang time on our warm and colorful reefs. Let us show you what lies hidden in Bonaire's depths.
Cost: $150 for 1 diver, $110 for 2 or more
Equipment, Cylinders, Gases, and Transportation are NOT Included.
Dive Bonaire's ghost wreck, the famous Mairi Bahn. This three-mast sailing vessel sank during a heavy storm in 1912. Diving to this wreck requires at least an Extended Range certificate or equivalent, since the maximum depth is 200 ft/60meters. After a 10 min surface swim, your guide will take you down along the reef towards the back of the wreck. This is a great place to take pictures while looking at the immense keel. During the bottom of your choice, you will swim along the 240 ft wreck, explore the crow's nest, and look through the many cracks in the hull. Your decompression stops will be done on one of Bonaire's prettiest reefs.
A wonderful, dramatic, steep drop off lures many a sport diver at Karpata deeper than they should. The quiet depths hold some surprises only seen by tech divers. Anchors and other remnants from Bonaire's early trade days can be found at depths of 180 ft. and deeper.
A challenging entry in tech gear, that's true, but the reef is absolutely worth it. A steep wall starts at 80 feet and drops down all the way to 150. After that, the slope becomes gentler. A good place to see deep sea corals and sponges and to play with small green turtles during your shallow decompression stops.
A pretty site shallow, a great site deep. It is also a maritime archeological site. The reef slope continues until 160 feet, filled with gorgonians and brain corals. Decompression is always a treat here as amazing sea life is always found. In the depths, historical anchors can be found from the early days of the salt trade on Bonaire. More than just a good dive, it is also a brief history lesson of early Bonaire.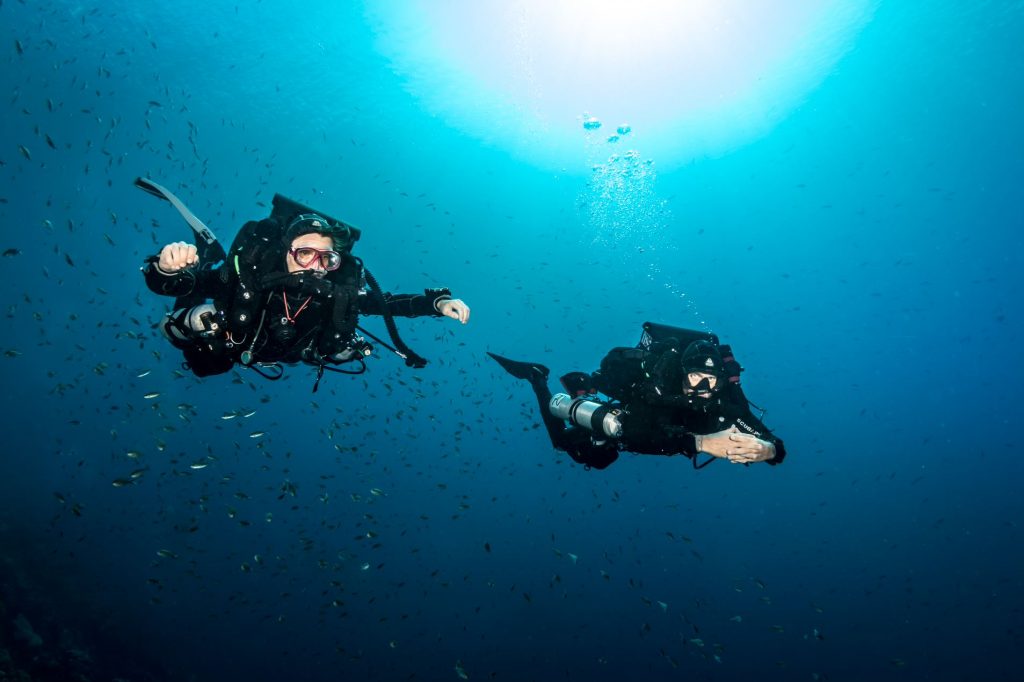 Originally a water barge that brought fresh water from Curacao to Bonaire, the small barge sank in 1972 close to Captain Don's house reef, making it a fun technical drift dive. The barge is fantastically colorful with a magnificent coat of all kinds of corals and sponges plus countless invertebrates. Decompression stops can be done on the walls of "Cliff" dive site. How many seahorses do you count?
An extremely popular dive site, The Hilma Hooker is a must-do dive! The 70meter/241ft. cargo ship was purposefully sunk on this location in 1984. It's a fascinating dive if you've never had the opportunity to explore a vessel this size before. Come hang out with tarpons in the cargo holds or let us guide you through the engine room (Wreck Specialty Certification required). At a depth of 27meters/80ft to 30 meters/100ft, you will need to watch your air, depth and time carefully. This dive can also be done as a penetration dive for tech divers.
Damaged during a hurricane, Divi Dive's Sunshine didn't quite make it to dry land. The wreck is situated on a sandy plate and is a great hideout for local sea life.
Cause we're probably underwater.