At TDS, we have an unquenchable thirst for all things diving and we want to share this passion with you. TDS was founded in 2015 by Chris Verstappen who believed in and implemented a higher standard in training that we still practice today.
We are a small, personal, 5-star SDI/TDI dive center that prides itself in top level training and excellent customer service. We offer training for sport diving, technical diving, and professional level diving, as well as first aid and CPR. We also offer equipment sales, gear rentals and repairs as well as guided dives, custom mixed gases, rebreather, and independent diver support.
We feel that certifications need to be earned and not bought. Therefore, we do not charge a fixed price for courses but per each day of training. Flexibility in course instruction enables the instructor to tailor his/her teaching style for each student, allowing the focus of training to be on student safety, comfort, and skill development. We strive to create a friendly, laidback learning environment without cutting back on quality. The courses are hard work, but we guarantee your satisfaction with the end results. Whether you are just starting out in diving or want to become a dive professional, we can help you reach your goals.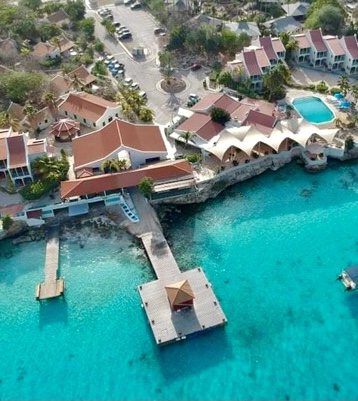 We are located oceanside within the grounds of Captain Don's Habitat Resort. Being right on the water is optimal for having most of class time spent where it matters most …. in the water! The TDS dive shop is adjacent to Rum Runners Restaurant a convenient spot to grab a quick, tasty lunch during a course, or watch a stunning sunset while enjoying happy hour cocktails at the bar.
"The location is amazing. It's great to roll out of bed and go diving first thing in the morning!"
– Steven
We are personal and care about all the details that comprise excellent customer service! At TDS, we like to think of ourselves as more of a dive club than a dive shop. We are more than happy to recommend dive spots, tours, restaurants, and day excursions to enhance your vacation on Bonaire. Stop by for a cup of coffee or tea and let us answer any of your questions and share our passion for diving and the underwater world.
Cause we're probably underwater.