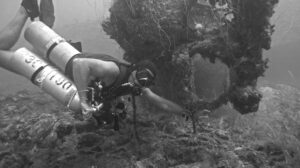 Doing things differently
After working in the dive industry for more than 15 years, founder Chris Verstappen formed clear ideas about how to run a dive shop, and – more importantly – how to train divers. In Technical Diving Services he implemented those ideas and ideals, a standard that is still held high by the current TDS staff.
At TDS we do things differently. We believe that training is more important than certification. We know that everyone learns at their own pace. And we feel that certifications need to be earned, and shouldn't be bought. Therefore we don't charge for a course, we charge per day of training, working toward becoming a better and more versatile diver. If and when certain threshold levels are met, a diver will be certified on that level.
TDS is located on Captain Don's Habitat resort and offers training for sport divers, technical divers and dive professionals, as well as high level first aid and CPR classes.
The shop has a select range of Dive Rite gear and Shearwater computers (official Dealerships); durable gear that will sustain any diver from the easy Open Water level dives unto deep water expeditions.